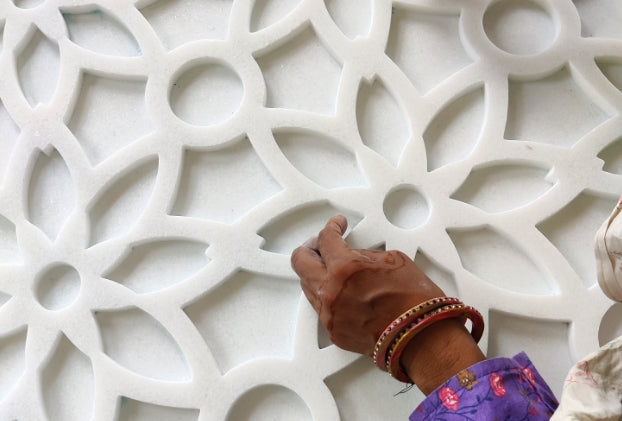 Stone Carving
Inspired from traditional bas-relief & sculpted with true finesse
Hand-sculpted with a delicate eye for details, natural stones such as marble or limestone take new form and function with every tap of a chisel. Inspired by the ageold art of bas-relief, stone surfaces are honed and hand polished into mesmerizing displays of pure craftsmanship.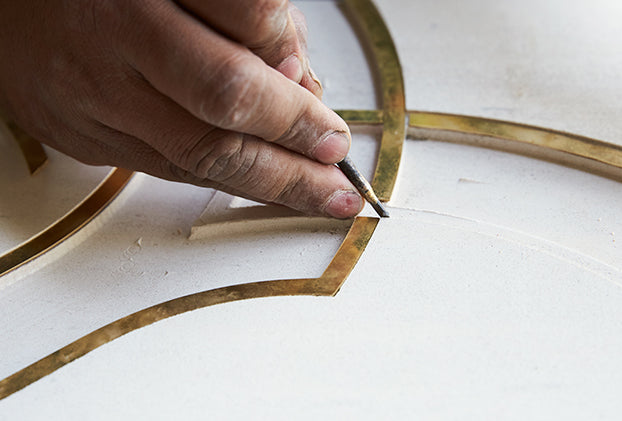 Metal Inlay
Raw metal blended with the warmth of natural materials
Alchemy is often considered an ancient and buried philosophy.But to us, the art of hand-crafted metal inlay work is a combination of traditional craftsmanship, cutting-edge technology, a sophisticated design ethos, and the finest materials, giving alchemy it's rightful place in the modern world.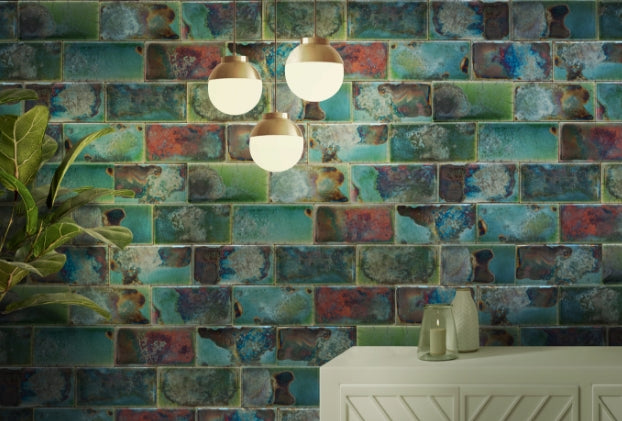 Raku Firing
Creating timeless surfaces using ancient Japanese technique
Prometheus discovered fire, its enthralling power and unpredictable affinity for destruction. The Japanese art of Raku, took it a step forward and used fire's potential to create eternal beauty. Each tile is expertly hand glazed, hand fired and rapidly cooled, using the same traditional raku techniques that have been followed for centuries. Intense colours and unpredictable patterns open up a world of creative possibilities.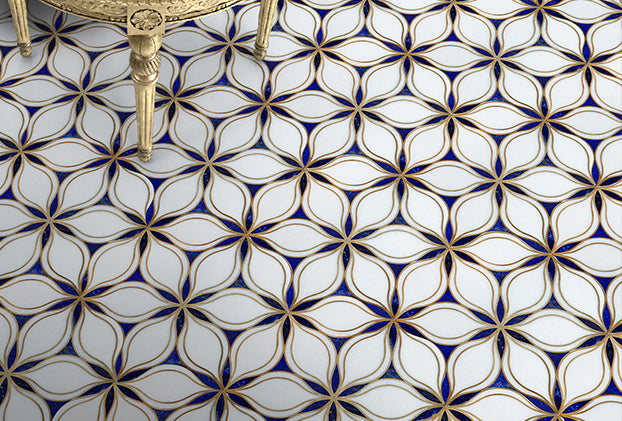 Stone-in-Stone Inlay (Semi-precious Inlay)
Raw metal blended with the warmth of natural materials
Stone-in-stone inlays act as the perfect representation of the coexistence between subtlety and magnificence. Fine marble and limestone surfaces are embellished with subtle, decorative inlays in a variety of materials ranging from stone and mother of pearl to lapis lazuli and malachite.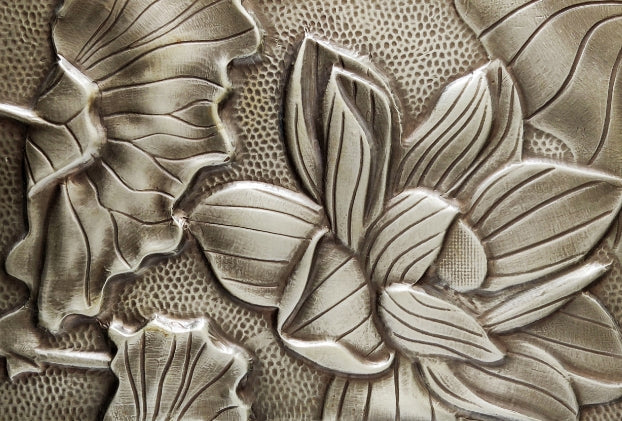 Hand-Beaten Metal Overlay
Where a hammer and expertise go hand-in-hand
The finest metal is placed on the most conscientious of craftsmanship to create intricate patterns. What starts out as delicate stone carving is then covered by a layer of metal that is delicately hammered in place, to create both visual depth and subtle texture.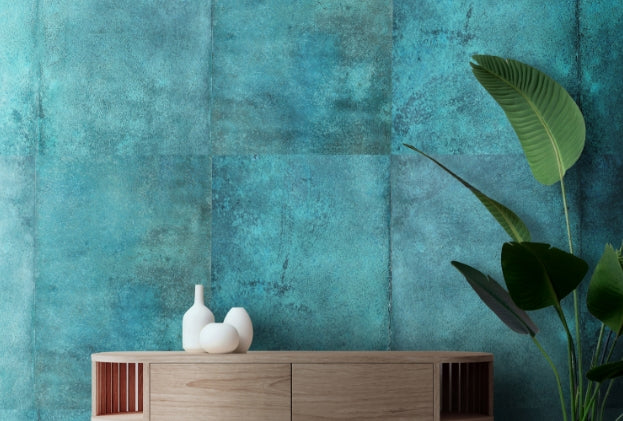 Metal Coating
Pure metal poured onto natural materials like mirror, stone and glass to create textured surfaces
Metal graces stone, wood, glass and other materials with its purity and personality. This cutting-edge technique, that involves bonding the metals in liquid form to the surface, offers a variety of aesthetics and a multitude of different effects, from patina, aged and rusty to sleek and modern.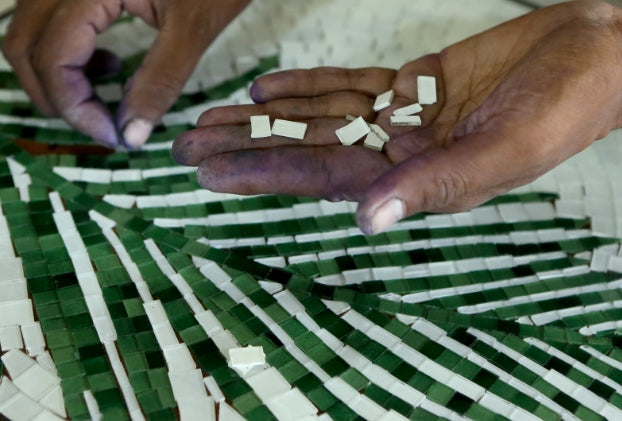 Glass Mosaics
Recreating the old-world charm of stained glass
As an ode to the medieval stained glass panels of Europe's cathedrals, large sheets of colored glass are broken into asymmetrical pieces, reassembled methodically to create something truly unique and seemingly unplanned.Belying the precise composition and skilled craftsmanship required to create these shimmering surfaces, the resulting patterns seem almost rganic in nature.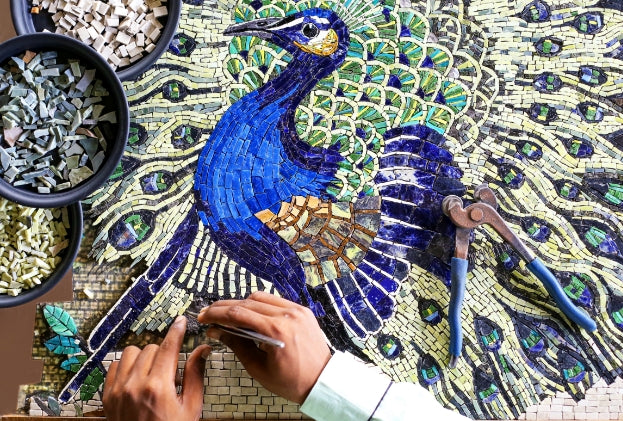 Micro-Mosaic Art
Bringing 12th Century Roman Micro Mosaic art back to life
Minute pieces of stone, glass and semi-precious tesserae are assembled, to create symmetric patterns or replications of live forms in an array of bright colours. The exacting compositions are the result of proficient craftsmanship and a keen eye for detail. The interconnected pieces fit together like pieces of a puzzle, creating a three-dimensional textural quality that's perfect as a piece of art.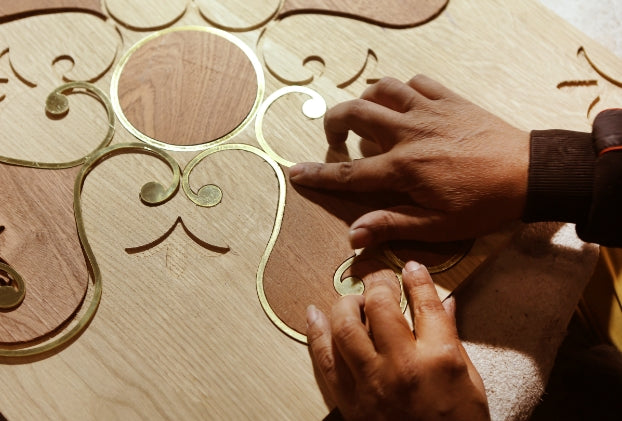 Wood, Metal and Stone Inlay
Confluence of wood, metal, stone and craftsmanship
The beauty of wood embedded with rare artistry for sumptuous surfaces. Every piece is made meticulously, inlaying solid wood and sheet metal into natural stone, then honing all the materials until they appear to form a single seamless whole. Naturally, the technique demands expert craftsmanship and a deep understanding of the materials used.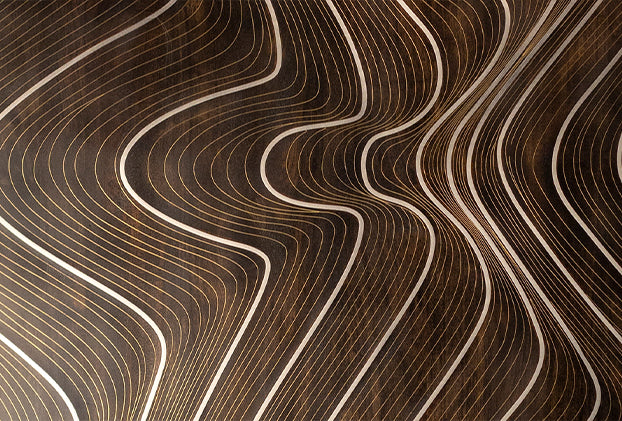 Tarkashi
Centuries old art, Tarkashi, narrates an interesting tale of artistic exploration
A centuries-old dying art form, Tarkashi involves drawing of the design on a piece of paper & then transferring onto wood, where each detail of the pattern is hand-carved to create deep grooves. Flattened and gleaming metal wires are then inlaid into the grooves and hammered into position by hand.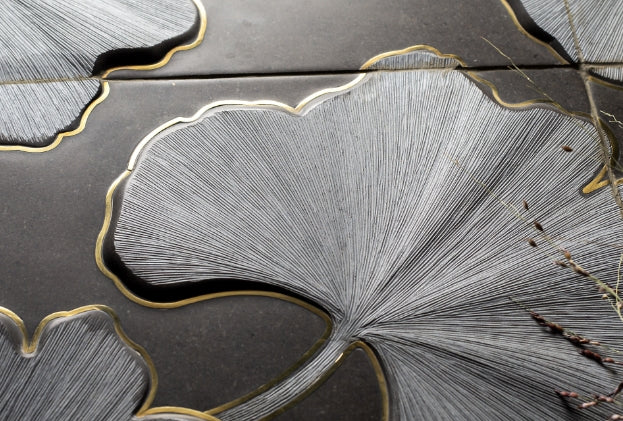 Bas Relief & Texturing
The technique emulates thread-like lines on natural stones, resembling the flow of fabric
Handmade by artisans who have mastered the dying art of bas relief, this technique involves emulating lines on natural stones, as if these are threads which organically show up on natural fabric and flow on, almost convivially onto the surface, making them look immersive and fun.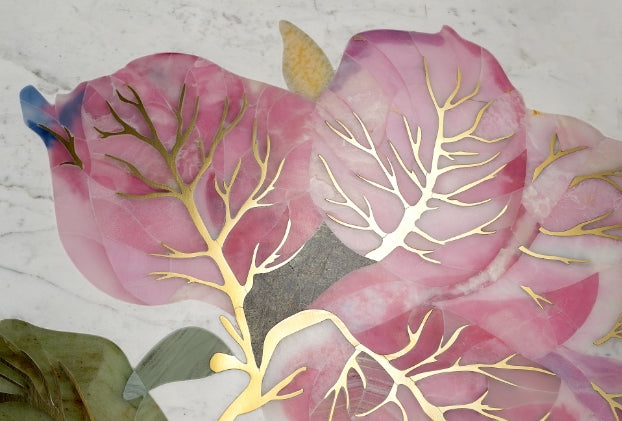 Semi-precious Stone & Metal Inlay
Natural stone expertly embellished with curved metal inlays & semi-precious materials
The timeless beauty of natural stone expertly embellished with curved metal inlays & semi-precious materials. Drawing on the Italian technique of pietra dura, embed natural stone with rare artistry.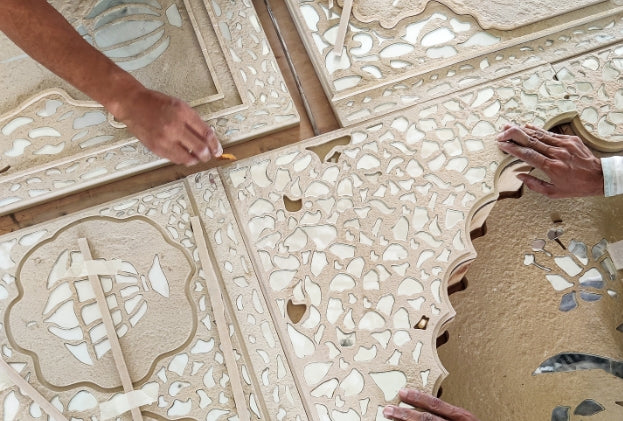 Thikri Art
Small pieces of glass cut into specific shapes juxtaposed in their defined place to form a pattern
Thikri Art is traditional glass inlay work that originates from the Indian state of Rajasthan. It involves creating intricate designs and patterns using stone and glass. Thikri art form is associated with luxury and elegance due to its ornate designs. The process involves cutting small pieces of glass into specific shapes juxtaposed in their defined place to form a pattern.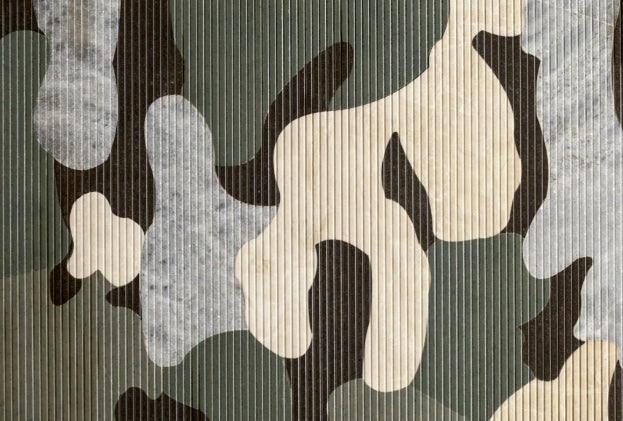 Stone in Stone Inlay & Texturing
Fluid patterns invoking mysteries of the nature, recreated with solid stone
Taking after military prints and patterns, along with nature's own technique of self-preservation through camouflage, these swirling, mottled designs edge forward fluidly, as if on a whim. The desired effect is achieved with an innovative dual production technique that combines the age-old art of Pietra Dura with intricate fluting technique.
Glass Eglomise
Ancestral Saviour faire with it's roots in the 15th century
Orvi artisans have mastered this 15th century art form, where metal is applied at the reverse of clear glass resulting in decorative reflective surfaces. Each Eglomise piece is one-of-a-kind & also double as captivating storytellers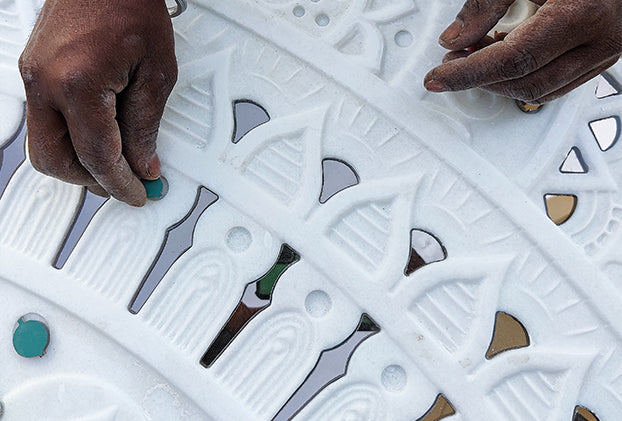 Lippan Kaam
A traditional folk craft form with timeless elegance
Combination of mirror, glass and stone carving work results in art pieces reminiscent of picturesque Jharokhas and Indian Haveli.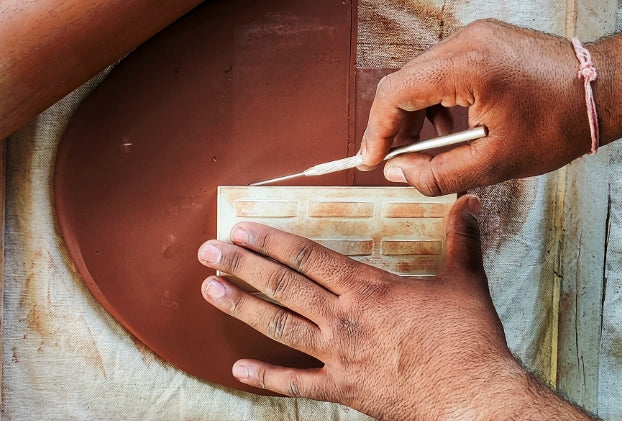 Terracotta Art
Art form involves using finest quality clay, crafted by skilled artisans bringing expertise and creativity to each piece
Terracotta art is a fascinating craft form that has been around for centuries, and it has gained popularity in recent times due to its unique aesthetic appeal. This art form involves using finest quality clay and is crafted by skilled artisans who bring their expertise and creativity to each piece. Each piece is carefully molded and shaped into uniqueness to ensure that it not only looks beautiful but is also functional.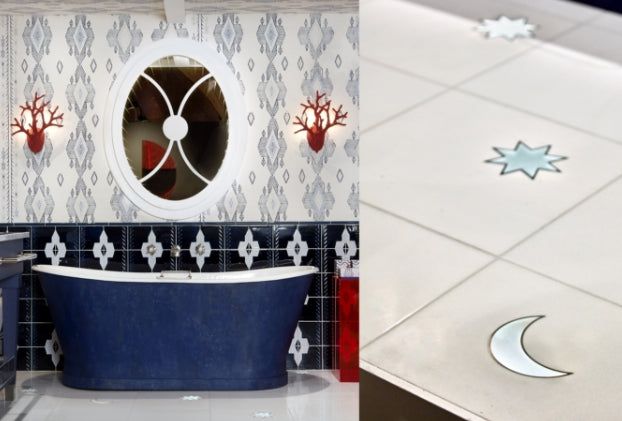 Backlit Surfaces
Marble surface with celestial inlays lit from beneath
Celestial surfaces that combined marble with pre-shaped inlays that cleverly light up from beneath the surface. The craftsmanship of our expert artisans create unique surfaces with an inlay of glass and stainless steel in natural stone.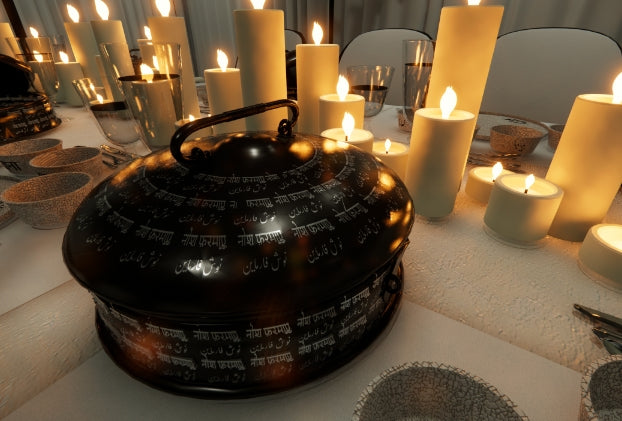 Ganga Jamuni
Syncretic cultural heritage of Lucknow
Sheets of silver or metal are shaped and embossed to create the desired objects. A centuries old craft called "chitai" is yet another example of our rich and skilled craftsmanship. Hand meets hammer, to create magic and form beautiful statement art pieces. Using the centuries-old technique of hammering, artisans fashion metal to our will and produce products which are as chic as they are utilitarian.