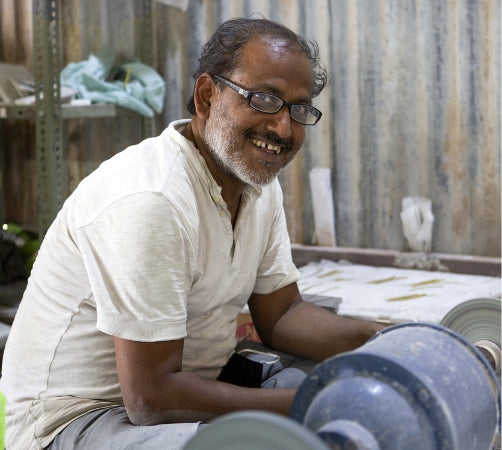 Abrar Ghazi
Our craftsman Abrar Ghazi has been with Orvi since 2015 and is an expert in stone-carving. Due to his parents' financial condition, he could not afford his school fee and used to spend his free time reading books. Self-taught, he continued to appear for exams diligently and completed his education with high grades. Thereon, he decided to hone his craft skills that he had learnt in his village and chose to become an artisan for stone-carving. At Orvi, he plays an important role in co-creating with the designers and charms everyone with his willingness to learn more.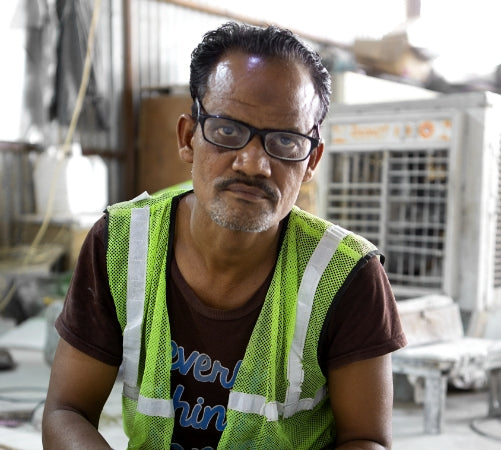 Sabir Abbas
Sabir Abbas is a master artisan who has been working with ORVI since 2016. He has more than 25 years of experience in Pietra-Dura and metal-in lay work. Sabir was born in Agra, is married and is the father of 5 children. To support his family, he started working at a young age and could not complete his formal education. Adventurous in nature, he tried his hands on carpet weaving and well as farming but did not find joy in them. He finally decided to peruse his ancestral craft of inlay work and today, trains young artisans at Orvi exhibiting high entrepreneurial spirit.
Sharafat Bhai
Sharafat Bhai is a skilled artisan of metal-beating as well wood-carving & marquetry. With more than 10 years of experience, he has been a part of the Orvi family since 2018. To assist his family financially, he began working with his parents in the backyard of his house, at a very young age. He got trained by master artisans from his village who instilled in him the value of handcraft as well as team-work. He believes that Orvi gave him an opportunity to showcase his talent and he aspires to be a role-model for his young children.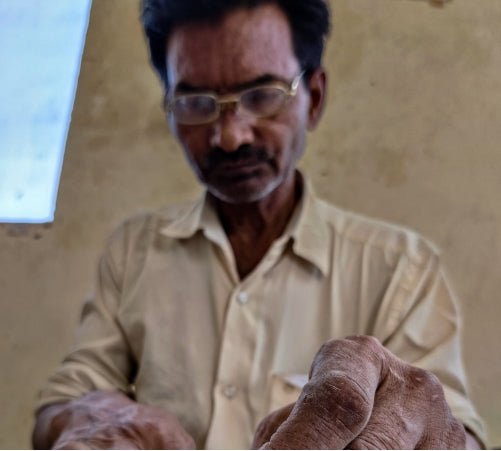 Anwar Bhai
Anwar Bhai is a master craftsman who is associated with ORVI since 2015. He is a natural leader and recognized master artisan with more than 30 years of marble in-lay work. Born in an artisan family in UP, where he saw his father and brother mastering marble inlay work, he was naturally inspired to join this craftwork and continue the legacy of his family. Anwar shows high commitment towards quality and on-time delivery. He has played a key role in launching new collections like Palacio where artisans had to embrace new craft techniques with an interplay of new materials. He has inspired 8 new artisans from Taj Ganj to join the Orvi family.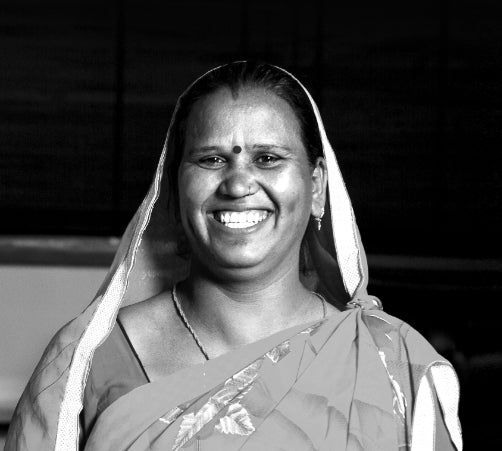 Bodhi
Bodhi is a skilled Terracotta and Raku artist. With over 10 years of experience, she has been a part of the Orvi Family since 2013. She began working in the wood industry after her marriage to support her husband and provide a better upbringing for their children. Her husband instilled in her a sense of appreciation and value for handcrafted items. She expresses her excitement at becoming a part of Orvi, which has empowered her to explore endless prospects. She aspires to be a role model for her co-workers, motivating them to work harder.