Elevate Your Home Interiors Using Minimal Decor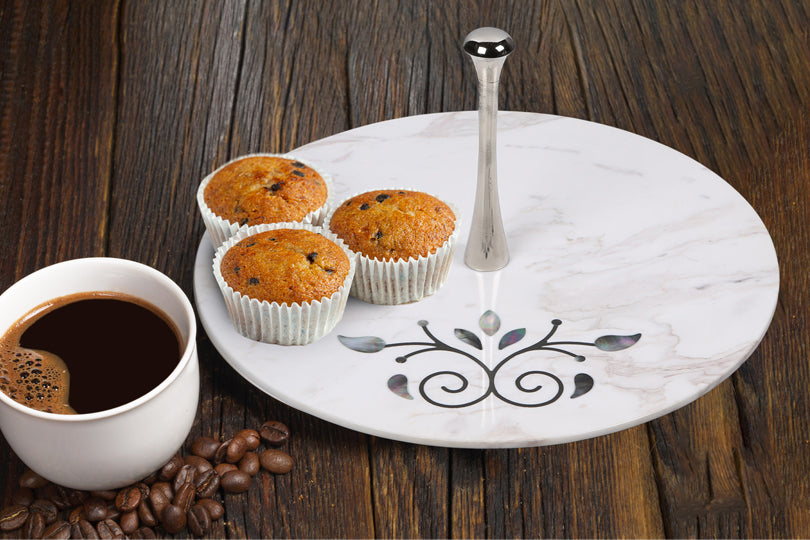 Looking to add a touch of opulence and luxury to your home without going overboard? If yes, then minimalism is the way to go! While it is often associated with Spartan living, the reality is that minimalism is about so much more than just getting by with the bare essentials. It is a lifestyle choice that prioritises subtleness over loud colours, and refinement over excess.
Whether you're looking for a new marble cutting board or a set of marble coasters, there are plenty of ways to incorporate pristine white marble into your home so that every nook and corner speaks the language of grandeur. It's classic, timeless, and can make any space feel lavish. In this blog, we'll explore some splendid marble products that exemplify the best of what minimalism has to offer.
White marble coasters with brass inlays-
When it comes to home decor, less is more. That's why we love this minimal marble coaster set with brass inlays. The brass inlays offer a subtle hint of splendour, and the sleek white marble is ideal for any surface.
Add some personality to your kitchenette with these beautiful handmade natural stone coasters. Made from durable natural stone, these coasters are unique and exude delicate nuances that will leave an impact on your guests. They're the perfect way to add a bit of style to your space. And because they're handmade by skilled artisans, you can be certain that each coaster is of top-notch quality.
Shop Now: White marble coasters with brass inlays
White marble tier tray
Are you looking for a way to spruce up your home décor without putting in a lot of effort? If so, you're in luck!
A white marble single-tier tray is a great way to display snacks or other items in your home in a stylish way. Whether you use it to showcase your favourite vase or to display a beautiful piece of art, it's sure to grab eyeballs.
From displaying candles, flowers, or other decorations items, a single-tier tray can add a touch of elegance to any home in a blink of an eye. Undoubtedly, white marble is a classic material that never goes out of style!
Shop Now: White marble tier tray
White marble round accent table-
Is your home in dire need of a makeover but you don't want to splurge much? Fret not, you can still achieve the look you want within your limits. One way to do this is to focus on your home's decor. A few well-chosen pieces can go a long way in giving your living space a refreshing visual appeal.
A sophisticated white marble round accent table should be next on your list to amp up the aesthetics of any room. The sleek metal design and tempered glass top of this table make it a chic addition to any space. Whether you use it as a side table in your living room or as a nightstand in your bedroom, this table is sure to elevate the look of your home. You can use it as a coffee table, an end table, or even a side table. And because of its round shape, it's also great for small or cramped spaces. In addition, the white marble top is super easy to clean and maintain.
Shop Now: White marble round accent table
White Marble Geometria Bookends With Brass Inlay-
What's the best way to flaunt your book collection? With marble bookends, of course! Not only are they exquisite and ooze charm, but they're functional as well. With a pair of marble bookends, you can line up and organise your books neatly. Moreover, they make a great decoration for any room.
If you're looking for the perfect marble bookend, look no further! This gorgeous pair is made from high-quality stone. Polished to a luxe shine, they'll look great on any shelf. Trust us, your books will thank you for this stylish upgrade.
Shop Now: White Marble Geometria Bookends With Brass Inlay
It's a Wrap
Representing a classy blend of creativity and technology, the brand new collection of marble pieces from Orvi Home makes for a stunning addition to your abode. Get a collection of unique sculptures, marble art, and white marble furniture, handcrafted by skilled stone cutters and polishers.
It's not common for a product to be created at this high level of artistic craftsmanship. It's a pioneering process that solidifies Orvi Home's position as an exclusive provider of beautiful home décor.
Visit our website to see what exclusive we have to offer and get your dream decor today!