Designing spaces using surfaces with floral patterns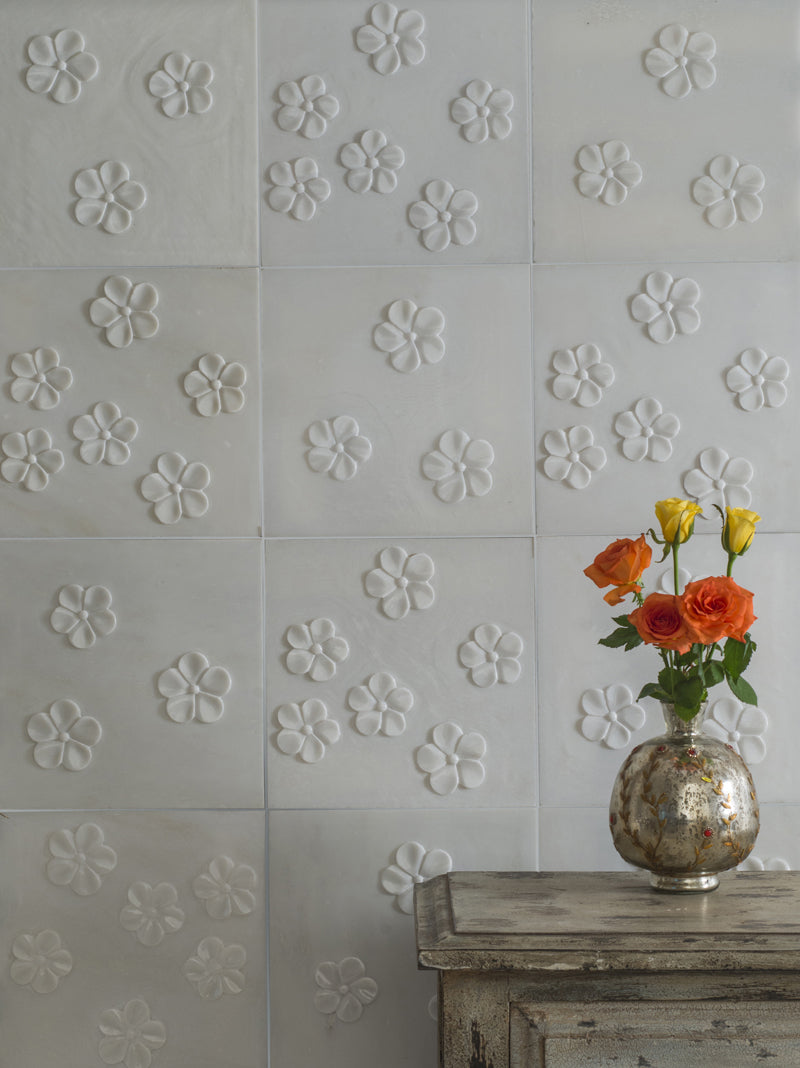 It can be so eye opening and rewarding to work with interesting material & design ideas and to re-create living spaces using the same. This week, we give you a low down on using surfaces with decorative floral inlay patterns. Incorporating floral patterns is a fabulous way of drawing attention to the interiors for e.g. a tall wall done up with surfaces that incorporate a Mondrian floral pattern, can direct the eye to admire the ceiling heights in a house. These surfaces create an organic vibe for a minimalist style and also evoke of feeling of delight, happiness & well being.

With Orvi Surfaces one can find many surface options that have a visual as well as an emotional impact. An example is the Flora Collection which is created through the cross-fertilisation of age-old crafts and modern technology.

Using surfaces with floral patterns allows us to make the space exude a symmetric grace. Further innovative techniques & material combinations allow the surfaces to replicate the organic texture of the gardens which were a medley of earth, pebbles & the rustic patterns of leaves.

We have rounded up the best decor tips on how to craft a stylish and inviting home with floral patterns.
Avoid clash of patterns

Do not forget to keep the size of your room in mind before shortlisting the surfaces. Mini and dainty florals in a large room can sometimes disappear in the space, but at the same time, if used wisely on the floors or in sections on the wall, they can add a classy touch to the space. Very large motifs can sometimes look overwhelming and have to be used such that they look aesthetically balanced to create a bold statement.
Living areas


The living room is almost a multi-functional space and hosts the guests, parties and frolic, acts as a dining space or a naptime spot sometimes or even becomes the childern's play area. Indeed it needs extra attention. Using surfaces with floral inlay in interesting combinations like marble & metal, or even intricate stone flowers inlaid in stone surfaces, can create a light & breezy mood to this space.

For a bold, dramatic space​


Larger floral motifs can add an eccentric and bold element to the aesthetic of a space. Remember that a blend of patterns, prints and textures can help in avoiding a sense of heaviness in the décor. A fusion of materials can further add playfulness to the interior space. A perfect example is this surface from our Arazzi collection, which is in a lovely lotus shape and hold an inlay of a rare peacock MOP(mother of pearl).

Floral patterns for storytelling​


Close your eyes and visualise surfaces that present flowerlike forms which are meticulous embellished in stone with great precision. Exquisite metal Inlay surfaces & tiles, portraying stylised branches, vines, daisies and other floral forms (delicately implanted in natural stone) can be very emotive and can engage us in an interesting story of humour, joy and idiosyncrasies. The silvery sheen of stainless steel and the golden glow of brass, set in vibrant varieties of white and grey marble or darker limestone variants like Gris Foussana and Nero Sangemini, bring an uncontrived vitality to walls or floors.