Immortalise special memories - Get a personalised cutting board online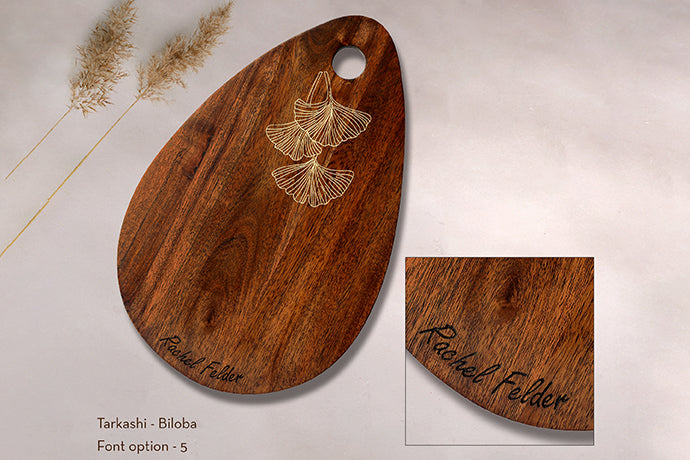 Personalised gifts are invaluable for everyone. The joy of unwrapping a gift with your name or touching message imprinted on it is unparalleled, and is a wonderful way to celebrate special days and the special people in our lives. Not only do they hold great emotional value and create a special lifelong bond, but are also exclusive and one-of-a-kind, which adds to their luxury quotient as well. They remind us of happy times, and help us relive those moments throughout our lives.
What makes bespoke gifts even better is when they're thoughtful, functional, and can be used for a long time. Orvi's customised charcuterie and cutting boards are fantastic gifting options for those who love to cook, host and entertain, and make for delightful momentos on birthdays, anniversaries, wedding celebrations and housewarmings. When engraved with the name of the receiver, a noteworthy date, or even a catchy message, this simple yet elegant board takes on a whole new meaning.
This beautifully-designed cutting board is made from the finest quality Acacia wood, and is shaped, carved and polished by artisans with years of experience in woodwork. For a mesmerising visual detail, the boards are inlaid with thin brass wires in different motifs, and have a thumb hole for easy grip or to hang up the board when not in use. It also doubles up as a serving board to display meats, cheeses, finger food and even desserts.
At Orvi, getting a personalized chopping board for your loved ones is easy. Here's how you can go about it in 3 easy steps:
Step 1: Personalisation is best done on Acacia wood that's easy to carve into, polish and hone. Choose the design style of either elegant Ginkgo Biloba flowers or a futuristic matric-like geometrical motif, and then decide on either a brown or a black-stained finish.
Step 2: There are a range of different fonts to choose from for your personal message. Our artisans are equipped to engrave a variety of different writing styles, as well as your personal monograms, logos or artworks. You can also decide the location of the message on the board.
Step 3: Leave this step entirely up to us! We carefully engrave your desired message - whether it's initials or a full name, a happy message or a memorable date - on the board, and get it polished and ready for use. You can rest assured that the receiver will delight in using it every day.
Bespoke gifting is a fabulous way to make your close ones feel appreciated and loved. We offer personalization of a variety of decor products, all you have to do is revel in the celebrations!