5 creative and practical uses of a side table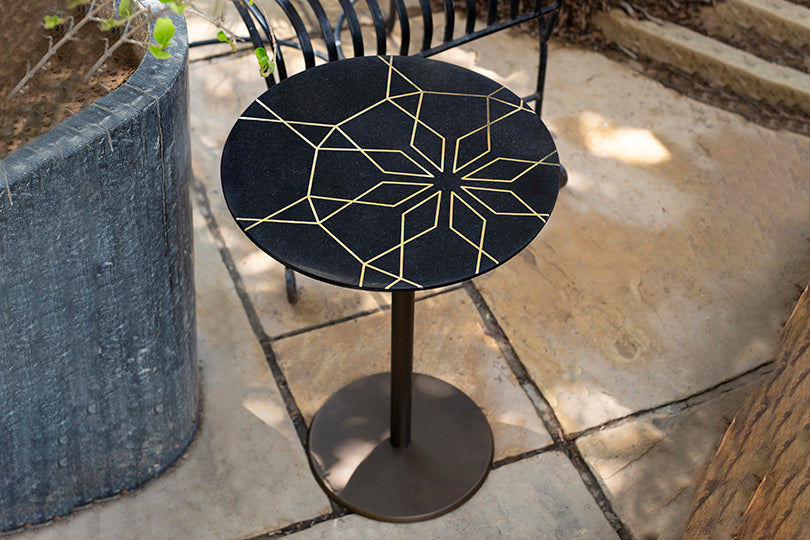 Side tables may be small pieces of furniture, but they're some of the most versatile and practical personal use items in the interior decor list. Traditionally, side tables have been considered an added surface; a small, movable table placed in a convenient spot to hold your drink, book or personal items in the dressing room or by the bed. But modern homes call for a little more creativity.
If you feel like it's time to give your home a quick refresh, or even if you have an extra side table lying around and don't know how to use it, here are 5 of the most interesting ways to use your side or accent table, and breathe some new life into your room.
Kitchen stand
Shop Now: Accent Table With Mother Of Pearl Inlay
If you love spending time in the kitchen whipping up meals for your family, consider using your side table as an appliance stand for when you're short on counter space. It can work as a stand for your coffee maker, toaster or cutting board so you can reserve the larger tasks for the main counter.
Plant pot holder
Shop Now: Accent Table With Brass Inlay
Move the table to the balcony or terrace and use it to elevate the smaller plant pots, or hold multiple tiny succulents together. If you have a variety of outdoor or indoor plants, this is a great way to not only store all the same sized ones together, but also make the smaller ones just as noticeable as the large pots.
Office storage stand
Shop Now: Wood And Brass Accent Table With Tarkashi Art
If you're constantly juggling deadlines and high pressure work situations, your work cabin or home office may not remain organised all the time. Introduce an accent table as an additional storage spot for your stationery, computer cords, or printer and scanner. A side table can come particularly in handy when you're having a meeting and just need an extra surface to hold your papers and files.
Alternative coffee table
Shop Now: Round Wooden Table With Brass Inlay
Stacked side tables is a trend that's here to stay. You can bring together accent tables of different heights and designs and place them in the centre of your living room as an alternate coffee table, or in an empty corner by your reading chair for a fresh look. This set-up is great for parties, when you want to dot your living room with decor accents like books, flowers and candles, or even when you need an additional bar counter to hold mixers, glasses and bar accessories.
Powder Room Stand
Shop Now: Accent Table With Paisley Design
Powder rooms are getting more luxurious and functional by the day, so it's only apt to think of convenience and comfort in this very private space. Bring in a functional new surface in your powder rooms for items that can't be placed on a wet counter. You can easily store extra towels or toiletries for guests, a flower vase or aromatherapy candles, or even a music player or tablet for your relaxed Sunday baths.