Mosaic Art- An Inspiration for Interior Design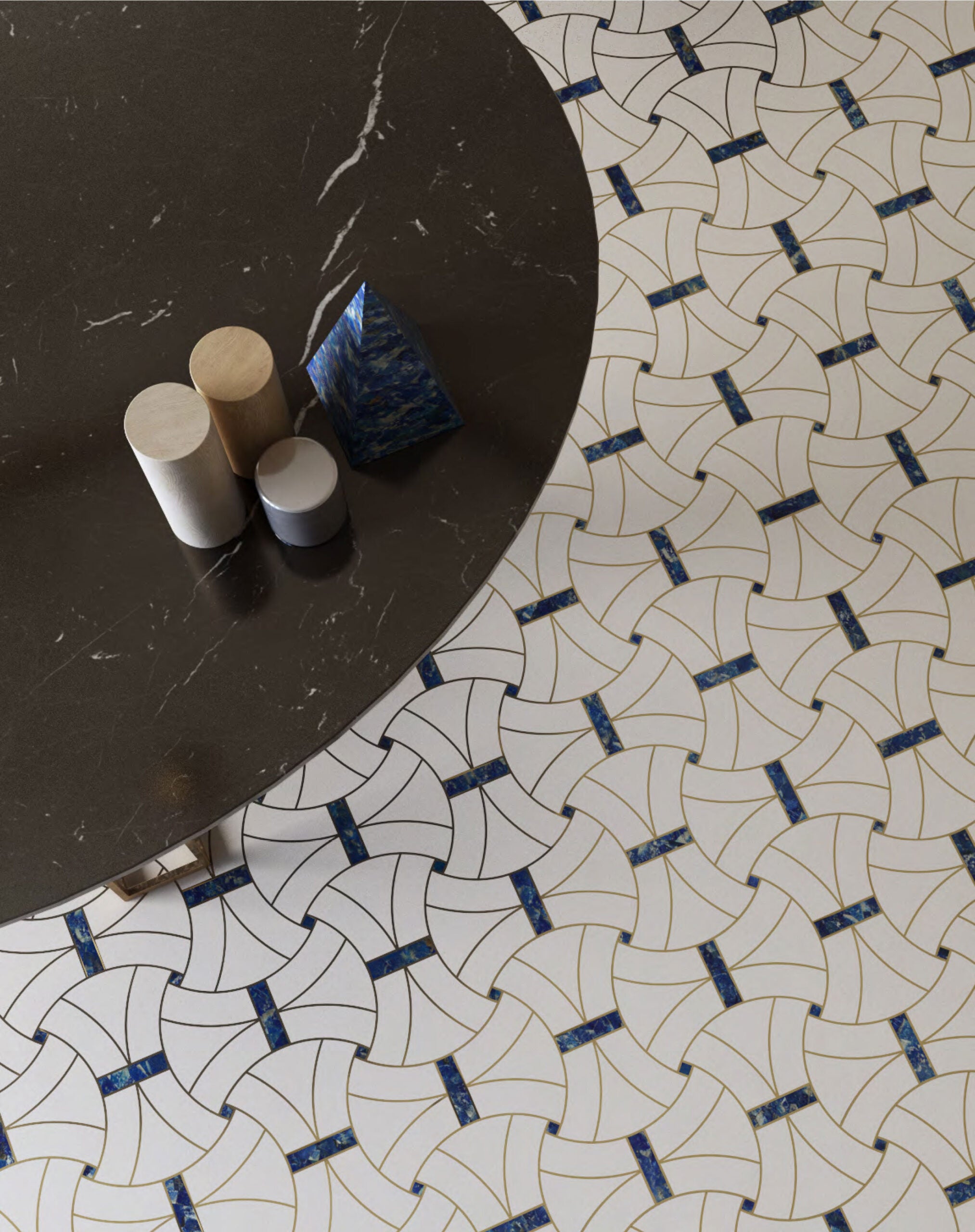 An everlasting muse for designers around the globe has been Mosaic Art – a 4000 years old art form. American designer Kelly Wearstler recently created a breath-taking mosaic for her new hotel project, by meticulously assembling vintage Portuguese tiles. Celebrity couple Maggie Gyllenhaal and Peter Sarsgaard also reused a decorative mosaic tile hearth for their cozy Brooklyn home.

What makes this art so riveting? We believe it's the sheer craftsmanship behind it and its long lasting history.

Think of European palaces, medieval churches or museums from around the globe, Pietra Dura or Mosiac art often adorns the walls where small asymmetrical pieces of either stone, glass or ceramic are juxtaposed in their defined place to form a pattern.

In Ancient Greece and Rome, mosaics with patterns and pictures became extremely prevalent and were widely featured on buildings and palaces on floors & walls. Since then, Mosaic art has continued to dazzle everyone with its flamboyant colours and unique aesthetic.
Mosaic Surfaces in Interior design & Living spaces

Here are some interesting ways in which Mosaic art, mosaic surfaces or even murals made with mosaic can be decoratively used to style living spaces:

Mosaic Surfaces


To evoke grandeur, one can simply ditch the same old wall art/tiles and introduce mosaic art to the living room, kitchen and bathroom. The diversity in colour schemes and patterns of mosaic surfaces instantly appeals to all kinds of sensibilities. Orvi's Metal Mosaic surfaces from the 'Molecules collection' are perfect to achieve this aesthetic as each asymmetrical piece is a work of art and elegance. Metal is delicately inlaid in each piece by hand with great precision into rich stone bases, creating contemporary patterns which are playful and subdued to start but are soon ready to transform into intricate mosaics that add depth and texture wherever they are placed.
Mural Art

To achieve a perfect ambiance that resonates with your personality, opt for this century old art form as part of your decor change-ups. Mural art using seamless craftsmanship of Pietra Dura is a perfect way to add drama to a living room, kitchen, bathroom & these look splendid in hotel lobbies and reception areas as well. Arisen from the ancient and the impeccable artistry from the world of tapestry, Murals by Orvi are inlaid with semi-precious materials, & each individual piece comes together to create a seamless pattern. With no visible grooves or grouts each piece interlocks, almost like a jigsaw puzzle. Using the Pietra Dura techniques of gem engraving & hand-carving, Orvi's expert artisans add to each surface, a wealth of experience acquired over time through the intelligence in their fingertips, observant of details, including the less noticeable ones.
Layering & Texturing


With a perfect blend of layering textures, patterns, colors and styles, mosaic surfaces make up for an eclectic add-on. When fine marble and limestone surfaces are embellished with subtle, decorative inlays in a variety of materials ranging from stone, mother-of-pearl and lapis lazuli to malachite, brass and stainless steel and even bespoke options like ruby & onyx, the play of colors & textures create visual drama. The Arrazi Collection by Orvi has eclectic surfaces perfect to achieve this visual play. These surfaces are inspired by the ancient Italian technique of Pietra Dura, first seen in the palaces & churches across Europe. Keeping the natural elegance of the lines and the remarkable craftsmanship at the pinnacle of the range, Arazzi by Orvi promises a melange of opulent surfaces embedded with natural stones.

Facade & Mosaic


While we all pay utmost attention to interiors of a house while revamping, we sometimes overlook the façade of the house. To make a great first impression, mosaic surfaces can be incorporated on the walls of the exteriors. Sprucing up the outsides of a house is eminently possible with the Brise collection by Orvi. To make these surfaces, large sheets of coloured glass are broken into small pieces, then diligently reassembled, section by tiny section, for an overall effect that recalls the glass-tiled mosaics of Europe's medieval churches and cathedrals.