Side Tables for Bed & Living room in wood, metal, marble with storage.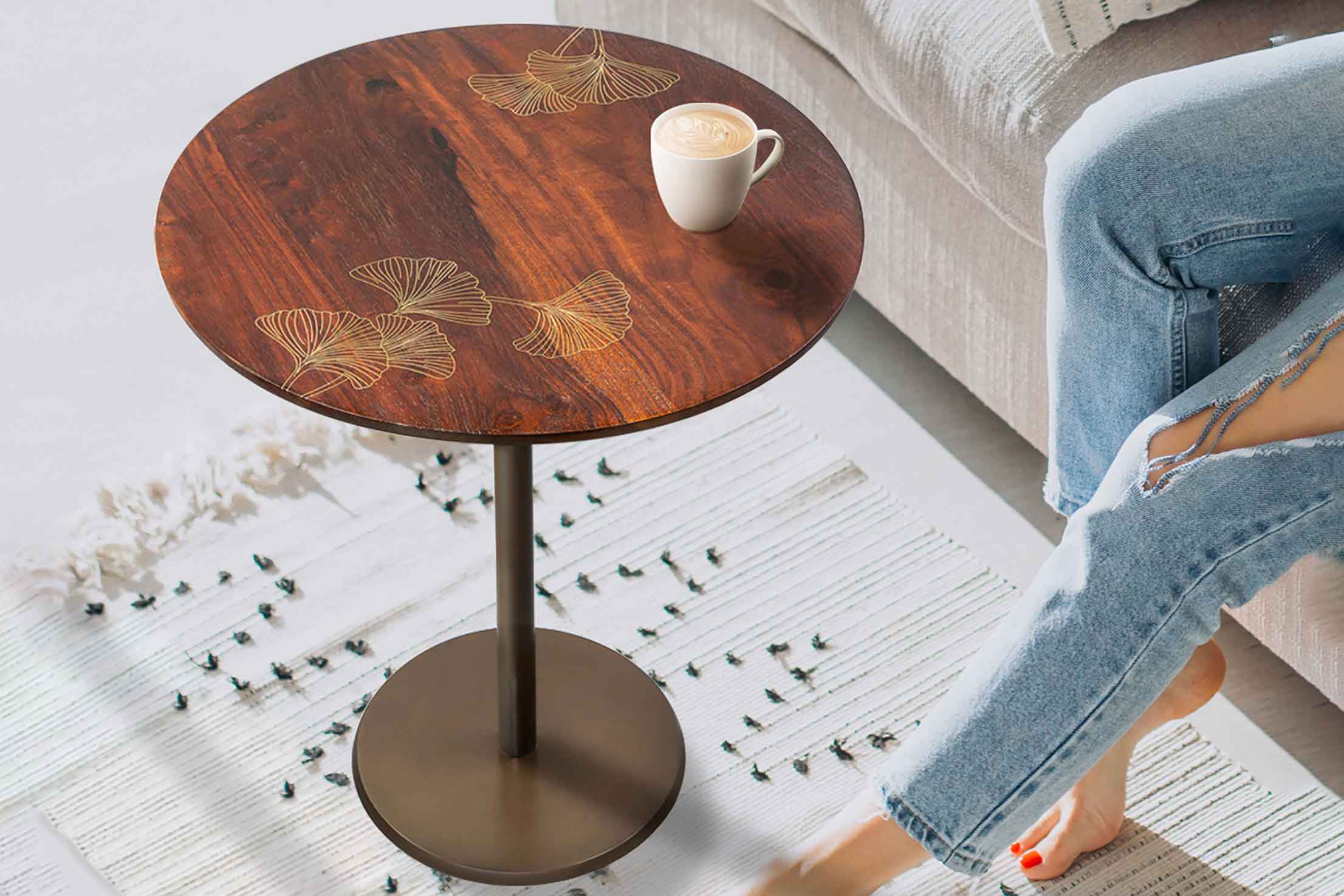 If you are looking for a way to enhance beauty in your space while keeping essential items within your reach, then consider investing in a minimalist side table for bed or for living room. These handcrafted wood side tables are beautiful, functional, and imbue a sense of peace and calm in your living room or office. Luxurious in its simplicity, the end tables can be used as a laptop stand, a breakfast nook or even a side table to be kept next to your bed room or sofa set to house everyday items.
They are of the highest quality, are simple to assemble, and have built-in storage for added convenience. Featuring lovely smoky tones and a neutral finish, the round side tables are perfect for kitchens, living spaces, and bedrooms. Keep your coffee, tea, or any other beverages or snacks l on a round accent table that can be easily affixed to your sofa. Although these tables cannot be moved, they appear elegant and well-placed.
Combine them with some comfy chairs for a trendy look in your place or give them as an exclusive gift to someone special.
Round tables: Available in Metal, Wood and Marble
Accent small round tables are very practical pieces of furniture in a home, and they become even more so when they are as stunning as the white marble coffee and side tables. With its crisp lines and shiny metal strokes, the geometric brass inlay delicately adorns the entire table top, enhancing the flawless, high-quality stone.
The accent tables have a contemporary feel and they hold a perfect balance of casual and formal, and they pair perfectly with any decor setting. These table is fully customizable with a variety of different wood, stones, finishes and metal finishes available to match your décor.
Shop Now: Accent Table With Mother Of Pearl Inlay
Ready to upgrade your decor with Orvi?
It's quite hard to find a piece of furniture that perfectly fits the style and ambiance of your home – unless you explore the wide range of decor-pieces and home accessories with Orvi Home!
Our Bed side tables and handcrafted round tables come in plenty of different styles, with a beautiful range of colours, so you can bring in a fresh vibe to any room (and still keep it classy!)
Shop Now: Accent Table With Brass Inlay
Delightfully designed or and meticulously handcrafted, these side tables are sure to be the perfect addition to any home. They are perfect for outdoor spaces too. At Orvi we're passionate about quality craftsmanship and aesthetics, which is evident in every piece we create. These stylish yet functional furniture pieces will bring a new level of class to your home. Browse the complete collection here.