The Aurae Side Table: A Stunning Piece of Statement Furniture crafted by Jimmy Mistry and Pearl Mistry in collaboration with ORVI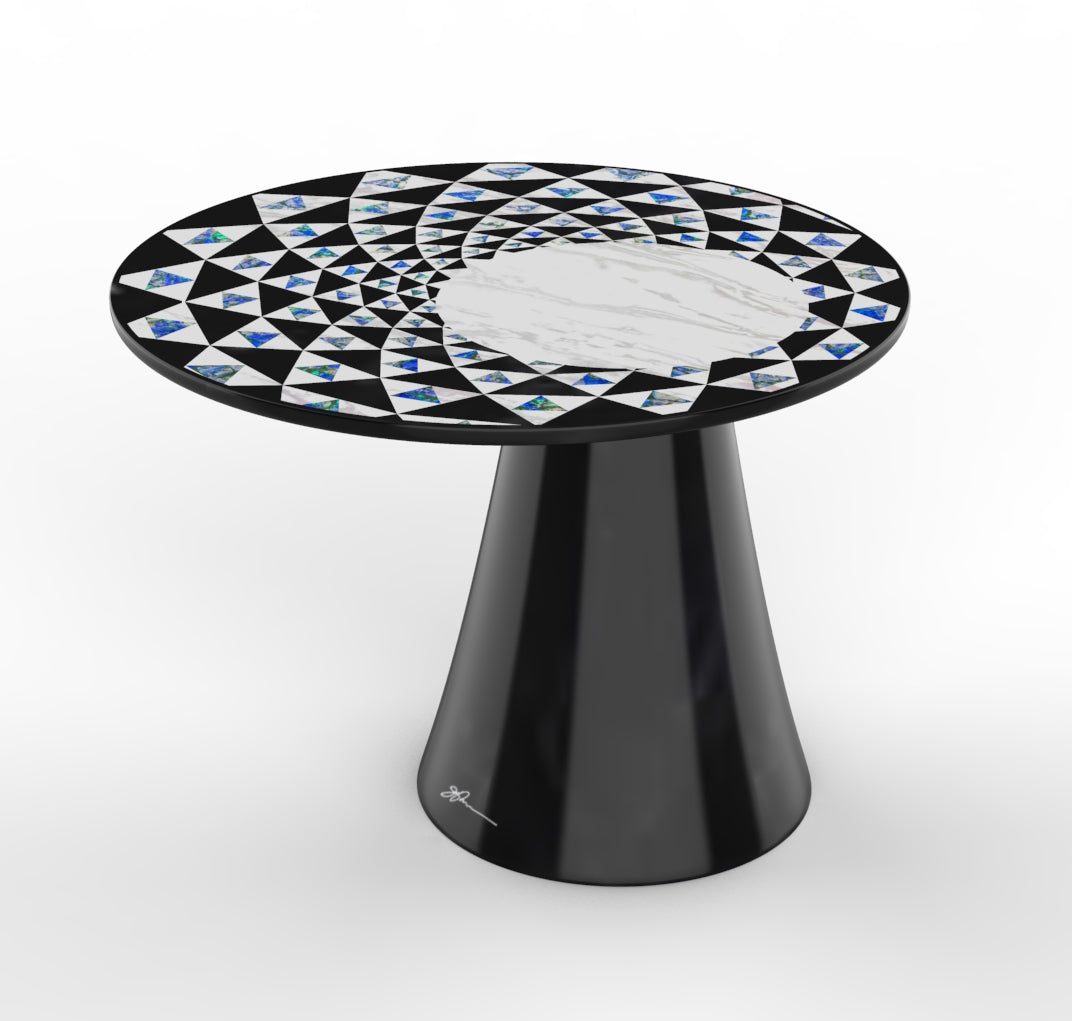 The Italian Terrazzo concept of design is based upon the idea of creating new formations through reusing and recycling different materials. In ancient times, Italians used Terrazzo to create beautiful outdoor spaces for their terraces and verandahs.

Jimmy and Pearl have put together their absolute creativity to perfect the Aurae Side Table, which is a stunning piece of furniture with decorative surfaces that are guaranteed to add a touch of art to any space it is placed in. Inspired by the Cathedrals and Churches of Italy, this table has been designed using pieces of broken blue and azure glass, perfected together with the utmost precision and diligence. What makes the Aurae Side Table special is how the designers have gone the extra mile and blended broken glass alongside natural stone to create the table surface. As a homeowner, you can choose to place this artistic table in the lounge while guests gaze at it in the middle of a rendezvous. You can also place this table in the lobby or in the corner of a walkway as a show table.


This table is an absolute blend of abstract modernity and age-old tradition. The moment you lay your gaze on this statement table, you will notice how intricately assembled it is, to recreate the glass mosaic patterns that are a signature feature of Italian cathedrals and religious buildings. To design and build this table from scratch, our master artisans at Orvi shattered beautiful glass to spread it into pieces and then reassembled each piece by hand to showcase organic design and artistic symmetry. A fusion of stunning glass and natural stone, the Aurae Side Table is no lesser than a conversation starter for when guests arrive.


The opulence in the finishing of this table came alive due to Orvi Natural Stones that have been used in the making of this table. Derived from the deepest sources of Nature, the natural stone used in this table got its signature hue after being shaped in the lap of nature for years. Natural stones carry with them an element of surreal elegance, which makes it a popular choice by designers and homeowners to be used for furniture and home surfaces. The Aurae Side Table crafted by Jimmy and Pearl Mistry, in association with Orvi will serve as a wonderful piece of furniture inside the living room. It can also be placed at an outside space, such as a terrace or a Balcony for a rustic look in the outdoors.