4 decor ideas to bring home the softness of sorbet shades this spring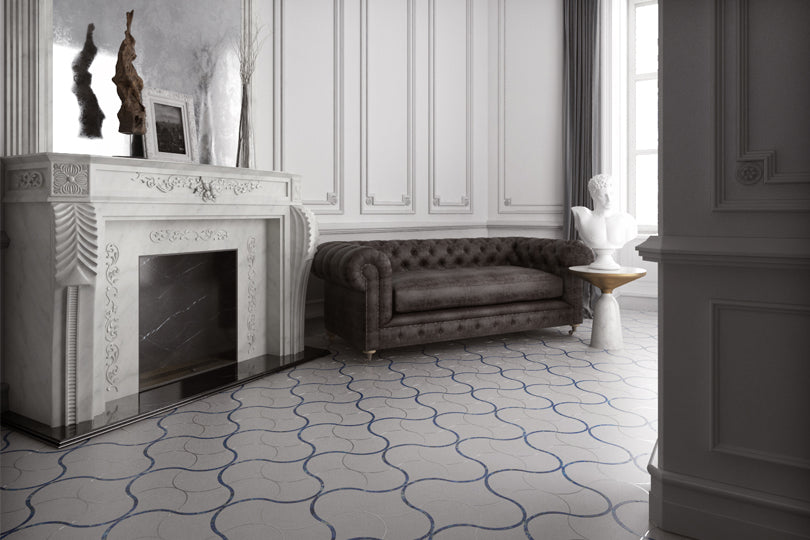 Spring is upon us and a summery refresh is always welcome, whether it's in our lifestyles or our home décor. Incorporating summer pastels and sorbet shades into your interiors keeps the easy breezy feeling intact all year round, with very little effort. A great way to do this is through your surfaces; stone and metal creations that allow you to infuse your home with sprightly colours in a modern way.

For a stylish home makeover this spring, Orvi Surfaces has a range of elegant floor and wall surfaces.
Here are 4 décor ideas about sorbet shades
1. Arazzi
Seamless patterns in delicate colours are a great base for just about anything to do with interiors. They're the highlight of our Arazzi collection, which combines the ancient art of tapestry making with the renowned Pietra Dura inlay technique to create an eclectic mix of stone with semi-precious materials, metals and gemstones. The colours come from the base stones of marble and limestone, topped with exquisite inlays. It's the perfect mix of luxury with timelessness.
2. Verdigris
A classic technique with modern connotations, Verdigris is the basis for this range of surfaces, which have the characteristic Verdigris green patina coating with statement textures and etches. Hot liquid metal is poured onto a base stone to achieve a dazzling surface with a playful gleam similar to solid metal. It's an innovative collection with a beautiful faint hue that will add a pleasant pop in your space.
3. Terracotta
Our Terracotta tiles merge the earthiness of clay with the charm of natural stone and the modernity of metal. These surfaces are created by firing and hand glazing by experts to reveal interesting patterns and colours that are entirely products of organic processes. Even within the sorbet shades, the colours can be unpredictable, and that's what invokes real joy in the space.
4. Chinoiserie
The Chinoiserie set of surfaces is all about the summer. Inlaid with semi-precious stones like Abalone Shell and Lapis Lazuli in tropical patterns, these natural stone surfaces have splendid artworks and motifs. It's not just the colours, but also the patterns that will welcome spring into your home.