5 decor essentials to perfectly style your side table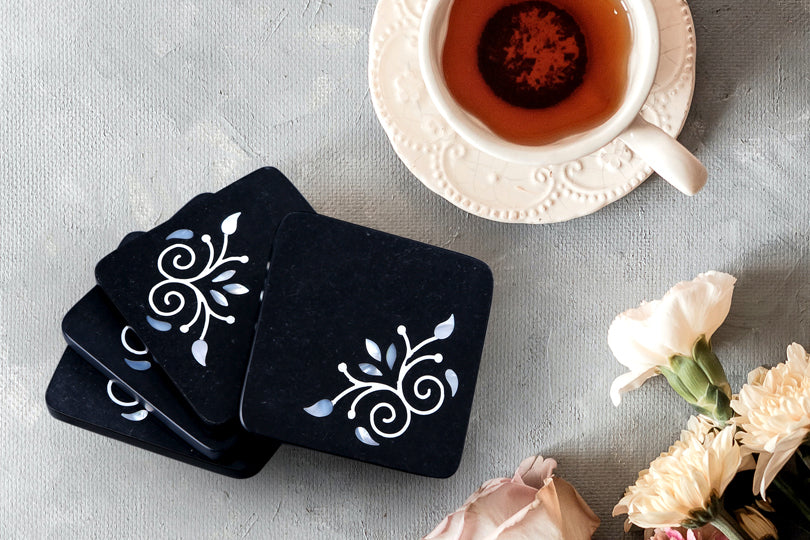 When it comes to our homes, it's often hard to find furniture pieces that are useful for both storage and display. Side tables are a fantastic way to put the fun in functionality and give you that much-needed balance of beauty and utility. Great for holding small and large items, and especially useful as an extra surface when you're entertaining, side tables are steadily making their way into the limelight.
Since the side table is now gaining ground, it's time you got to styling it in interesting ways to add some spunk to your room.
Here are 5 décor must-haves for styling your side table:
1)  

Raku vase
A charming vase filled with fresh florals is a decor classic, and what better place to display it than on your side table. Whether it's beside the sofa, the chaise longue or the bed, a beautiful Raku-fired vase is a great companion to have next to you. Raku firing is a Japanese technique that involves rapid heating and cooling of ceramic to reveal deep patterns and colours. Such raku vases are one-of-a-kind, and a great accompaniment to your side table.
2)  

Bookend
Cut down on the load on your bookshelf and shift some interesting reading material to your side table, with striking bookends to hold them in place. Bookends in stone or marble, with semi-precious stone inlays can aptly draw focus to the side table. It's a home decor accessory for all seasons.
3)  

Tealight holder
Side tables are usually not that large, so small accessories like tealight holders work perfectly with them. Create a calming ambience with a couple of tealight holders propped on side tables throughout your living room. For a little more impact, place the tealight holder beside a luxurious Raku vase with colourful flowers.
4)  

Coasters
One of the greatest uses of a side table is the availability of an extra surface for your guests to place their drinks. When you're hosting a party, the rule of thumb is for your guests to always have tables and boasters within their reach, so they can get comfortable without worrying about hanging on to an icy cold glass. Lay out a stack of Acacia wood or marble coasters on your side tables not only for the convenience of your guests, but also to protect your tables from stains and spills.
5)  

Trinket Tray
A little extra decor never hurt anybody. Use your side table to display an interesting mix of decor elements in a trinket tray. Fill it up with flower petals, candles or breath mints to create an intimate corner in your living room. In your bedroom, you can use it for potpourri, or to store your favourite jewellery. It's a versatile item that looks appealing even by itself, as a decor accent in marble or wood with brass or Abalone Shell inlay for a decorative touch.