Bespoke Furniture (inspired by the Royals of Mysore) by Shernavaz Bharucha x Orvi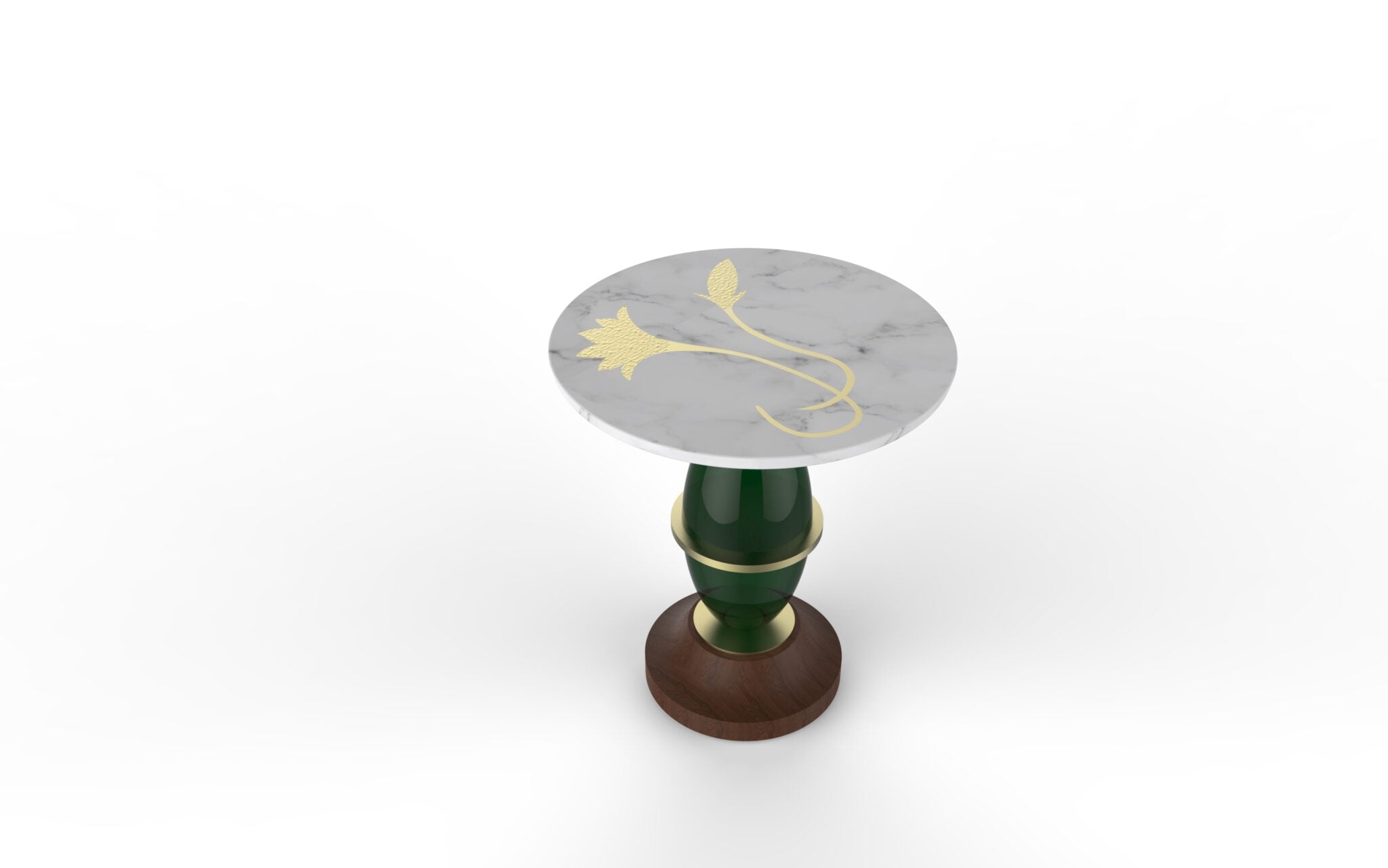 Retelling the story of the Royals of Mysore through motifs, symbols and insignias

The Purna Gatha Table:

The forms inspired by the elements of the PurnaGatha, the colours inspired by the four basic elements of nature – Earth, Water, Fire and Air. The table tops takes its form from the sacred flowers of Mallipoo and Waterlily. Shernavaz Bharucha in collaboration with Orvi has crafted these tables in marble and metal, intricately inlaid it using the beaten metal technique, which is nearing extinction with very few artisans remaining who know this art. With Shernavaz's design and Orvi's material finish, the table qualifies to be a wonderful piece of utilitarian furniture.

The Ganjifa Tables, on the other hand, which are inspired by the royal game of cards feature Orvi's flawless Inlay work. Each table has been crafted with multitudes of metals and stones. While the base of each table is metallic, the top is a blend of semi-precious stones and marble in an array of different shades, with metal inlay.


The Ganda Berunda Tables: Deriving inspiration from the Mysore Palace and its sacred mythological bird, Ganda Berunda, Shernavaz has also designed the Ganda Berunda Table crafted in a combination of Orvi's Natural Black and White stones. Through the skill of master craftspeople, we create the symmetry and equilibrium in its form. The textural complexity is achieved through age old inlay technique, which comes together with the lightness in being & the obvious distinction of regality, in this modern rendition of the Ganda- Berunda.


The Ganda Barunda Lamp: The series is completed by a Ganda Berunda Lamp crafted in coloured and frosted glass captures the magnificence and beauty of this twin-headed bird in its entirety. With the right material choice by Shernavaz Bharucha from Orvi, & the intelligence in the fingertips of master artisans from Orvi, the lamp assumes an almost sculptural aura, elevating it from being just a functional object to an intricate work of art.


The Family Tree Wall Panel:

The motifs from the Ganjifa cards – motifs that symbolize power, supremacy, divinity – take prominence in this wall panel and have been brought to life with an array of indigenous materials from Orvi including of semi-precious stones and marbles with unique natural colors. Textures at the back are created using pure liquid metal, and the borders are carved in wood and liquid metal. Inside the Family tree one can see the authentic Kannada script, describing its journey and the names of it's creators.


Each of the furniture, wall mural and the lamp has the power to create an ethereal experience in any corner of a home. The pieces are utilitarian yet culturally rich which makes them optimal to be placed in a traditional or modern decor setting.