Nizara by Pavitra Rajaram Design and Orvi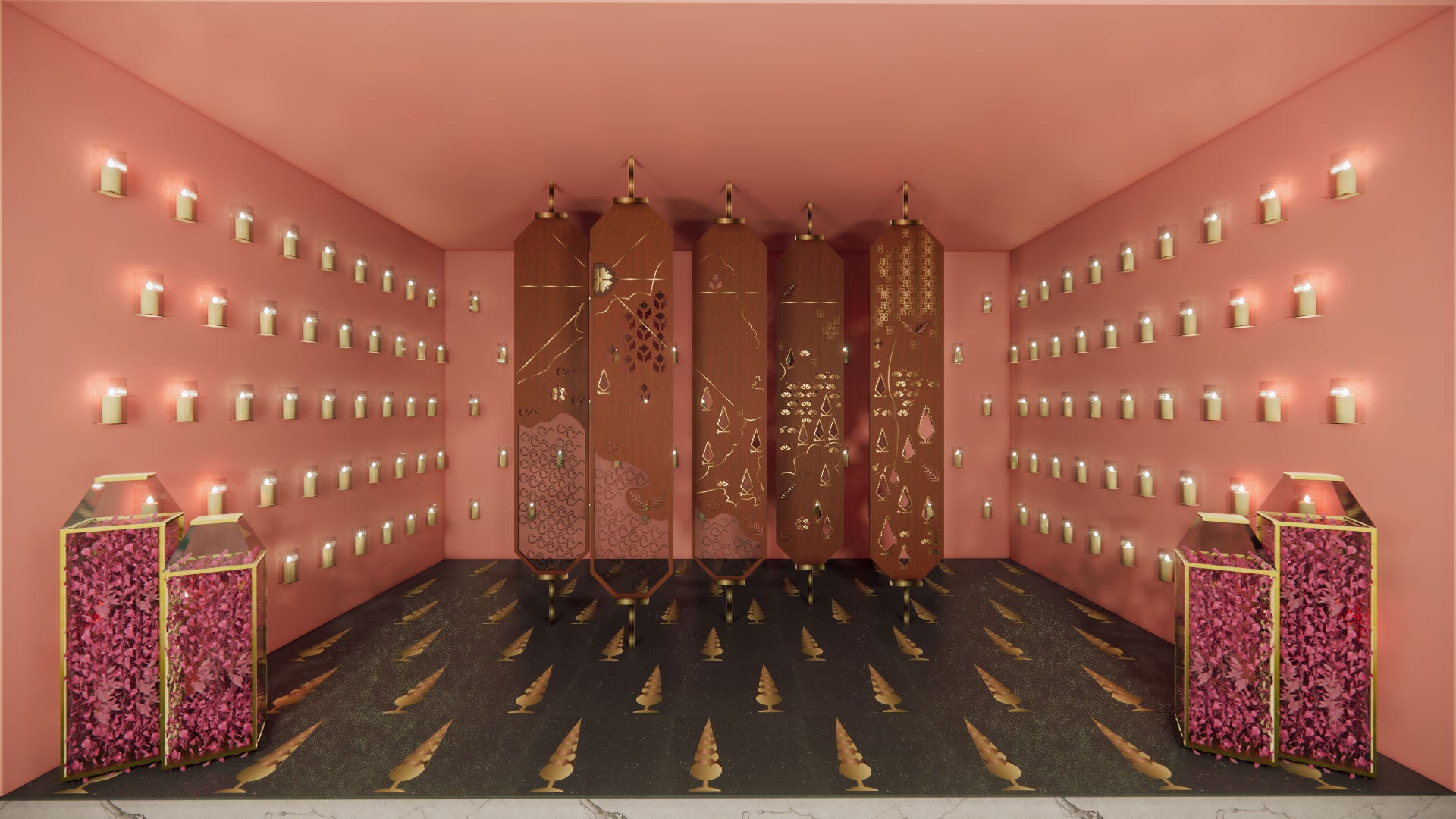 A graceful design adaptation of the "Nizaras" or Mughal Viewing Tents that were used by the Maharajas as a temporary place of stay or while they were out hunting in the forest, Nizara is created using wood panels featuring Inlay, Etching and Tarkashi work on them.

Comprising 360 degree rotatable wooden panels that fan out in the shape of a tent or a mesmerizing backdrop, Nizara is a piece of art itself that is crafted and brought to perfection using Orvi's natural limestone inlaid with metal. Not just limestone, but the design also includes inlay of glass in wood. The overall structure stands afoot on brass and copper inlaid floors that feature a vivid design of cyprus trees, resembling a royal carpet.

If we think about the applications of the rotating screens in modern interiors, they would look flawless as a backdrop and they can also be used as space separators to add an element of privacy in living rooms. The ornamental design makes it a good backdrop accessory that can simply be placed in front of any wall and completely change the look of the room.


In totality, the design is a contemporary take on the traditional kingsley tents that played hosts to the king and queen in their times of hunting and recreation. The confluence of the wooden panels and the intricately adorned floors bring about an overall majestic design experience. The wooden panels of the design have been arranged symmetrically so as to fan out into a beauteous backdrop as needed, or as a series of perfectly placed panels.

Orvi's signature Limestone, used in the surface design gives it a robust edge over other surfaces making it long-lasting and resistant to environmental exposures. The Inlay work featured on the surface and the panels is a result of hardwork of Orvi's master artisans and the relentless hours that they have given in perfecting the design.