Shades of grey - How to use this neutral shade in your living spaces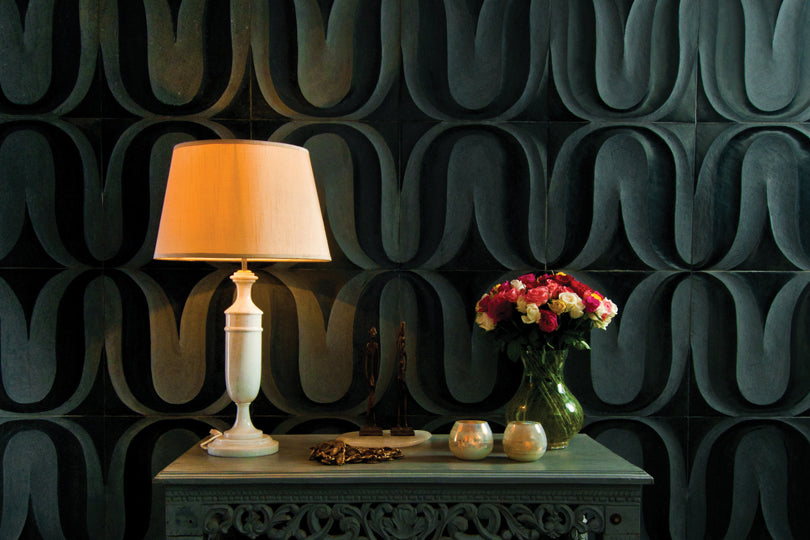 Global surface trends are proof enough that we've moved on from the overwhelming luxury of maximalism to the understated elegance of minimalism. Surfaces have evolved tremendously, with homeowners now looking for wall and floor surfaces that quietly balance richness with restraint.
The combination of grey stone and metal works wonderfully in this regard. A neutral shade across the board, grey comes alive when paired with gleaming metals like brass and steel, and it's always interesting to see how it instantly transforms a room. So for your next home makeover, here are 4 surface collections with grey undertones to make a subtle yet stunning contribution to your living spaces.
Armatura
Armatura surfaces bring out the true magic of metal and its inherent greyness. The concept is simple - brass or stainless steel is inlaid into natural stone with extreme precision; one that only comes from expert craftsmen with years of experience. It brings together the ancient Indian inlay crafts of Bidri and Parchin Kari, and transports them straight into modern-day spaces. The possibilities with Armatura surfaces are limitless - you can use it for walls and floors for your interiors and exteriors, as well as for pools, countertops and furniture.
Glyph
Making a statement is easy with Glyph surfaces, because they're just that eye-catching. It plays with depth, dimension and texture with alternating pieces of chiselled and hand finished stone. Choose from a variety of shapes in relief work, and turn your walls into a playground for drama and visual play.
Flora
Far from conventional botanic designs, Flora surfaces expresses this time-honored tradition a little differently. Light grey marble or darker limestone is inlaid with glistening veins of steel or brass to form stylized branches, vines, and flowers on walls, floors, or countertops. The simple palette combines natural grey stone with shimmering shades of metal, and the result is striking and sophisticated.
Sahara
Sahara is proof that imagination is everything. These natural stone wall surfaces are beautifully embossed with a variety of motifs using the technique of bas relief. With their delicate handiwork and unapologetic boldness, Sahara surfaces is all about adding a brush of elegance to minimalism. All you have to do is pick your choice of stone.