4 beautiful serving platters for the perfect dining setup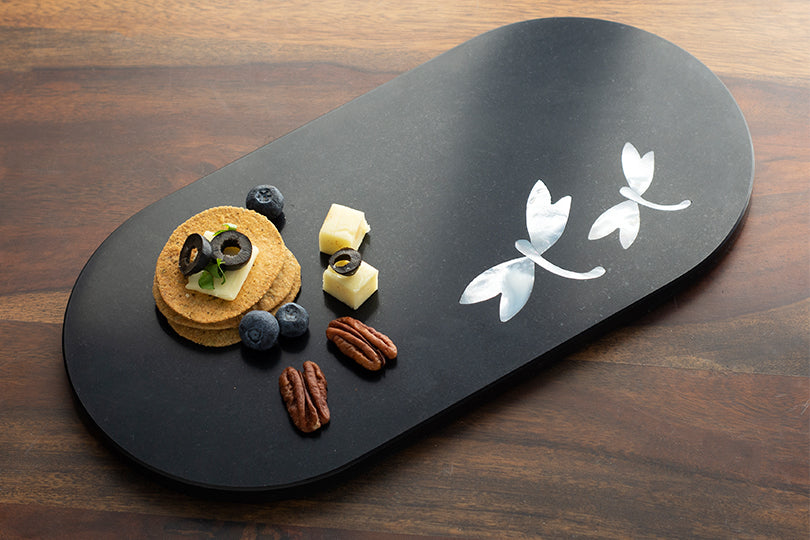 Contemporary homes call for multi-functional, aesthetic products that amp up the decor. Investing in a good tableware collection is undoubtedly a good bet, because it can instantly transform the look of your dining area. Whether you're thinking about home parties, family get-togethers, festive celebrations or intimate dinners, serving platters are the go-to in every respect. They're fantastic dining decor options to create the perfect table setting, not only for parties, but also for everyday use or even quiet solo nights at home.
When it comes to serving platters, the selection is endless. You can choose from a whole range of platters online, and experiment with materials, colours, shapes and sizes, depending on your dining and serving style. Wooden platters and marble platters are the most popular choices, owing to their durability and aesthetic. If you prefer eye-catching table displays, you can also give the platter a permanent spot on your table as a trinket tray for fresh flowers, tealights, cutlery or small decor pieces. Indulge yourself with a lavish spread on one of these serving platters, and add some classic elegance to your table setting.
1) Tarkashi Platter
The centuries old Tarkashi art form is one of the most exquisite crafts that rely on precise handiwork. Bring it to your table with a striking Tarkashi platter handcrafted from the finest quality Acacia wood. For detailing and a hint of grandeur, the platter is inlaid with thin brass wires to create intricate motifs. You can lay out a bit of everything - fruits, nuts, cheeses, berries, dips and bread - to create a party platter, use it as a serving tray for kebabs, rolls, canapes, puffs or tarts, or treat yourself to hot chocolate and cookies on your personal movie night.
2) Gravure Platter
Steeped in history, this platter tells a story through its design. It is made from limestone and shallow carved by artisans to create exclusive Paisley designs inspired by Jaipur block prints. The graceful motifs are the perfect backdrop for just about anything - floral arrangements, cheese and meats, and an array of desserts. It has two sleek handles for easy serving and display.
3) Intarsio Charcuterie Board
A luxurious mix of stone and brass, this is a captivating piece for decor lovers. Hand inlaid brass wires shine through a rich stone base to create the Intarsio Charcuterie Board. It's the ideal platter for fancy food displays, or to present a mix of snacks, side dishes and desserts. No matter how you choose to set up your table, this board will fit right in.
Read Also: 3 reasons why you need Serving Platters

4) Pietra Dura Platter
A bit of splendour at the dining table is always welcome. Inlaid with semi-precious Abalone Shell that gleams against the rich stone plate, the Pietra Dura platter is the ideal dining accessory. The minimal design and opulent inlay will complement your table setup. It works perfectly as a charcuterie board, trinket tray, tea tray or display piece too.